Improve Your Boating Knowledge and Knowhow
One-sized education doesn't fit everyone. Take control of your courses, track your progress, or simply share your journey with other mariners with the Mariners Learning System. Get started and start learning on the go.
Learn Anywhere, Any Time, on Any Device
Click to load video player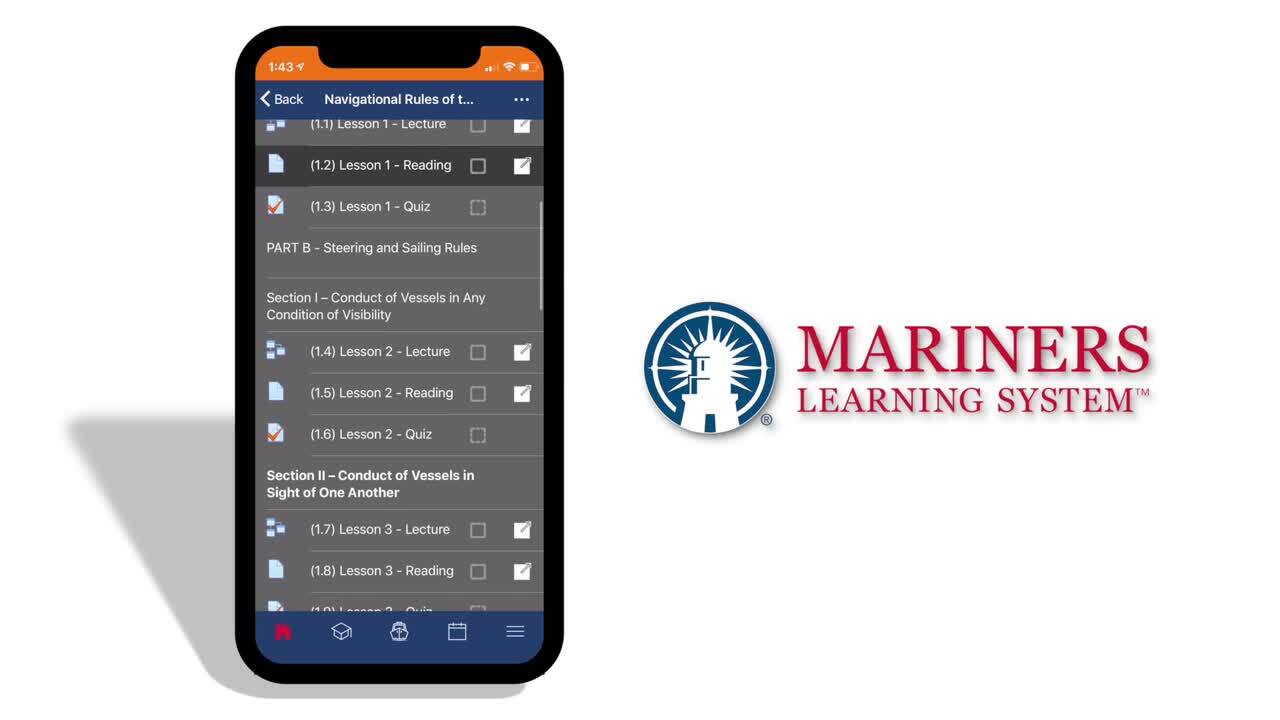 Why Choose the Mariners Learning System?
Are you feeling stressed from not being able to learn at your own pace? Think that classrooms are too stuffy? Don't find the materials engaging? Then make the switch to e-learning with the Mariners Learning System (MLS).
Our courses provide everything you need to become a better boater, earn your Captain's License, or become FCC certified. The MLS system is an entirely digital learning solution crafted by USCG-licensed instructors to help improve your boating knowledge, your way.
Personalized Learning
No more boring lectures or classes that don't fit into your schedule. With MLS, students get access to relevant materials wherever and whenever to make learning convenient. When you sign up for MLS boat operator license courses, you'll have access to:
Full-Color Digital Study Guides
Training Videos
In-Depth Audio Lectures
Personal Course Locker
Assistance from Licensed USCG Instructors
Mobile-Friendly Courses
MLS courses are available on any device. When you download the companion app to the MLS courses, you'll get unlimited access to course content wherever you are. Download materials and take them with you to learn on the go. Learn offline and then sync your progress when within range of wifi.
Quiz Yourself and Get Feedback
Use our unique app to test your knowledge and knowhow! Our flashcards allow you to test yourself on any course or topic MLS covers with our app. You can set your own testing parameters and immediately see your answers when you're back online to understand what you've mastered and the lessons you need to improve on.
Log Your Journey and Share
Ready to cast off? Share your journey on the open water! Mark your progress, log your hours, track the course you have traveled on the water, and share your journey with images and videos on social media for your followers to see. Join the MLS community online through the app and invite family and friends to join in.
A Complete Online Learning Solution
MLS makes it easy to learn your way. Make your free time more productive, learn on your downtime, and discover what steps you need to take to improve your boating knowledge or earn your Captain's License or FCC radio license.
When you study on your own with interactive, comprehensive materials, you take charge of your education. Whether you are an audio or visual learner, MLS gives you the tools to improve your boating knowledge wherever, whenever.