Which USCG Captain's License Should You Choose?
Captain's License: Which License Should I Go For?
Click to load video player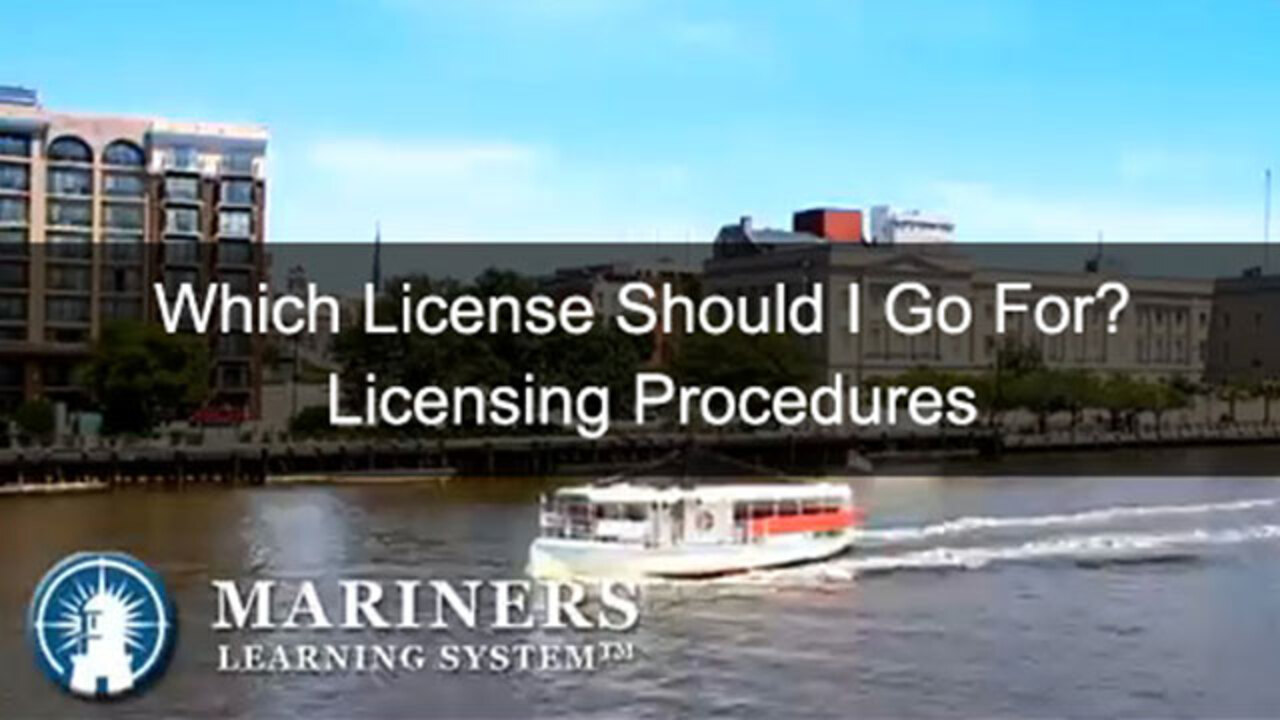 Common Questions About Choosing the Right Type of Captain's License
---
1

WHICH USCG CAPTAIN'S LICENSE SHOULD YOU GET?

The staff at Mariners Learning System recommends that you seek the highest level license that you can qualify for. There are a couple of options depending on your citizenship status and boating experience. To learn more, see our one-minute guide to finding out which type of boat captain's license is best for you.
---
2

What are the types of captain's licenses?

The two main types of captain's licenses issued by the Coast Guard are the Operator of Uninspected Passenger Vessels, also known as the Six-pack or charter boat captain's license, and the 25, 50, or 100-Ton Master License.

The Six-pack Captain's License allows the holder to carry up to six paying passengers plus crew on uninspected vessels up to 100 gross tons, hence the term six-pack. These are usually recreational vessels that are normally engaged in charter fishing, scuba diving, or tour cruises.

The 25, 50, or 100-Ton Master License allows the holder to operate inspected vessels as well as uninspected vessels. Any vessel that is authorized to carry more than six paying passengers must have on board a captain who holds a Master license. Ferry boats, harbor tour boats, whale watching, and water taxis are examples of inspected vessels.
---
3

What endorsements can you add to your captain's license?

Two additional endorsements can be added to your USCG captain's license. The towing endorsement may be issued to those who hold a Six-pack or Master license and would like to engage in assisting vessels for a fee. To commercially assist other vessels that may be aground, disabled, out of fuel, or experiencing some other malfunction requires an endorsement for commercial assistance towing.

Licensed Masters or mates may also be endorsed for sail or auxiliary sail as appropriate. This endorsement authorizes the holder to operate inspected sale or auxiliary sailing vessels within the scope and limitations of their license.

Whether you're a sailor chasing the wind, a power boater in search of the next big fish, or a cruiser looking for the perfect sunset, earning your captain's license will open the door to new opportunities.
---
4

Do you need a captain's license to be a fishing guide?

Yes, if you want to be the captain of a fishing boat with paying passengers, you need a USCG captain's license. To be a fishing guide for up to six passengers, you can obtain an OUPV/Six-pack captain's license. To be the captain of a ship with more than six paying passengers, a Master license is necessary.
---
5

Sailboat captain's license vs. ASA and US sailing courses

The American Sailing Association (ASA) and US Sailing Association both provide sailing certification programs. These programs are different from taking a course for the USCG sailing endorsement that can be added to your captain's license. The Mariners Learning System auxiliary sailing endorsement online course will prepare you for this certification whereas ASA and US Sailing courses will not.
---
The Definitive Guide To Becoming A Licensed Captain
It's all in this eGuide!
Learn how to get your Captain's License, determine which license is right for you, and understand the USCG license requirements.