Questions Answered in the Video
Additional Information
Online OUPV and Master License Courses
Captain's License Bonus Pack: All Inclusive Solution
Click to load video player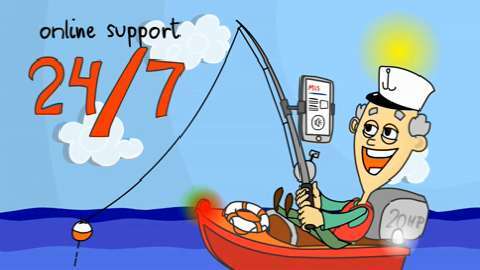 Common Questions About the MLS Captain's License Bonus Packs
---
1

Why use the Bonus Pack solution for your captain's license test?

Many people who love boating have considered getting their OUPV/Master Captain's license but are deterred by what they think taking a class means:
Having to take time off work and drive to a classroom
Dealing with students interrupting the instructor while talking out of turn and asking pointless questions just for the sake of asking them
Listening to an instructor go on for hours and hours, day after day
Chances are you don't have time for that, but there's an easier way to prepare and become a licensed captain. Use the all-inclusive Captain's License Bonus Pack solution from Mariners Learning System, and you can do it right in the comfort of your own home. Can you check your email and search the internet? Then guess what? You're overqualified to take the course.
MLS Bonus Pack courses not only teach you everything you need to know to be a captain, but they will help you become a safer boater as well. Our online courses are unlike any others in the industry and have been awarded the highly coveted approval of the United States Coast Guard.
The MLS courses teach you to understand the concepts and materials rather than you just trying to memorize them. Oh, and you don't have to be at home to study! Every Mariners Learning System course is also available for you to continue learning on your smartphone or tablet just about wherever you are. You can review a previous chapter or begin a new module from anywhere.
Here's one of the best parts: MLS not only wrote the course—we also wrote the final exam! As long as you follow our processes and procedures, you have nothing to worry about. Mariners students enjoy a 98.7% success rate, so what are you waiting for? It's easy, it's fun, it's usable anywhere, and you'll have your captain's license knowing you understand the rules, not just that you memorized some facts to get a passing grade.
If you have a question, you get 24/7 access to online instructors, and during regular business hours, you can speak to a live instructor to get your answer.
---
2

How long does it take to complete the Captain's License Bonus Pack courses?

After you sign up you can begin going through the OUPV license course at your pace. If you get tired, take a break or pick it up another day. The course guides you through step-by-step instructions on how to learn all the information you will need to pass your final exam. There are videos, 3D animations, and eLearning books that are educational and fun to watch. Pretty cool, right?
---
---
The Definitive Guide To Becoming A Licensed Captain
It's all in this eGuide!
Learn how to get your Captain's License, determine which license is right for you, and understand the USCG license requirements.