4-Minute Demo: Captain's License Study Guide and Course
Click to load video player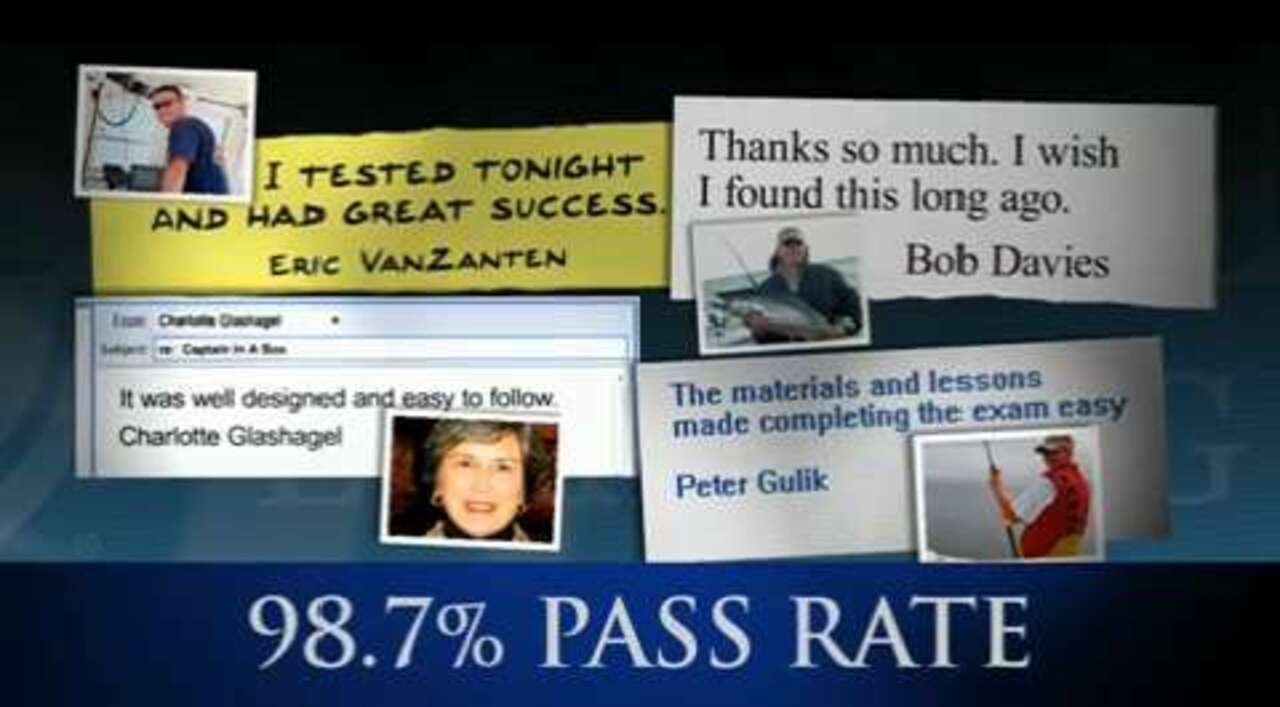 Common Questions About MLS Captain's License School
---
1

How do you pass the U.S. Coast Guard exam?

Mariners Learning System offers Coast Guard-approved captain's licensing courses that can be taken online at your own pace. We provide a methodical, well-organized program and professionally produced on-demand lectures, videos, and companion manuals. Our intuitive learning approach is direct, clear, and effective to help students absorb and retain what they have learned.
---
2

Why use Mariners Learning System to study for your ship captain's license?

Over the years, Mariners Learning System has trained thousands of students to get their captain's license. Our clients currently enjoy a 98.7% pass rate with our approved licensing programs. With Mariners Learning System, your online classroom training videos and broadcast quality on-demand audio lectures aren't just available on your PC or Mac. Courses are also available on your Blackberry, Android, iPhone, mp3 player, tablet, and most smartphones, so wherever you go, even if you're sitting in traffic, we offer you a true "Anytime, Anywhere" learning solution.
---
3

What will you learn when studying for your captain's license with MLS?

Our teaching style is based on one assumption: you know nothing about boating. Granted, that sounds harsh, but it doesn't mean that we speak down to you. It simply means that we build on the foundation on which you need to learn. We believe you need to crawl before you walk, and you need to walk before you run.

By incorporating this methodology with our standard practice of teaching understanding, we enjoy a success rate that is unrivaled in the industry. We don't just tell you how to pass your Coast Guard-approved exam. We truly help you become a better overall mariner. No matter how many years you've been on the water, when you complete any Mariners Learning System course, you'll walk away with a wealth of knowledge that will change your boating experience.

For more information, watch the video What Will I Learn?
---
4

When are MLS captain's license course instructors available?

Included with each Mariners Learning System course is 24/7 access to our online instructors. Every instructor is a U.S. Coast Guard licensed master that's gone through a rigorous process meeting the standards of the United States Coast Guard to become a certified instructor. They bring a level of knowledge, experience, and professionalism that adds to the total learning experience. In the rare event that an online instructor cannot answer your question, toll-free telephone support with one of our staff instructors will be provided.
---
5

How do you get a ship captain's license with Mariners Learning System?

Mariners Learning System has gone through a painstaking vetting process and has received course approvals from the United States Coast Guard, National Maritime Center, Department of Military, Veterans Affairs, and Homeland Security. Upon completion of the MLS online course, passing our proctored exam, and meeting other requirements such as documenting voting experience and passing a physical examination, you simply submit within a year the MLS certificate of completion and application to the nearest Coast Guard regional exam center. Upon their review and approval, you'll be issued a captain's license valid in all of the United States and its possessions.

Whether you are looking for a new career or you've been boating for a while and realized there's more to learn, Mariners Learning System offers an online course to meet your educational needs.
---
6

Where can I find captain's license practice questions?

The Mariners Learning System courses for the USCG captain's license include practice questions that will prepare you for your exam.
---
The Definitive Guide To Becoming A Licensed Captain
It's all in this eGuide!
Learn how to get your Captain's License, determine which license is right for you, and understand the USCG license requirements.