OUPV/Six-Pack Upgrade to 25/50 or 100-Ton Master Captain's License - Online Course and Exam
This course is for those who wish to upgrade their existing OUPV/Six-Pack to a Master level license. Depending on your experience, it will be issued as a 25, 50, or 100-ton license. The Master level license is required to operate an inspected vessel that carries seven or more paying passengers.
The Towing Endorsement is required if you will be engaged in towing a disabled vessel for payment, such as the activities of a Sea Tow or TowBoatU.S. operator.
To carry seven or more passengers "under sail" on inspected sailing vessels, a Sailing Endorsement is also required.
Our Online Course and Exam includes 12-month access to the MLS online learning system. No additional fee for online testing within your 1 year's access. 
The USCG 25/50/100 Ton Masters License allows you to perform the duties of an OUPV/Charter Boat Captain and also operate Inspected Passenger Vessels that are approved to carry seven or more passengers. In order to carry seven or more passengers "under sail" a Sailing Endorsement is also required.
The OUPV/Six-pack Upgrade to 25/50 or 100-Ton Master Captain's License - Online Course and Exam includes one year's access to our award-winning Internet-based narrated lecture and interactive learning system. The final licensing upgrade exam is taken online and on demand. You can view the Testing tab to learn more.
Even though Mariners Learning System™ course is web-based, our students are not alone. Built into each course is 24/7 access to our online instructors through the MLS Help Center. In the rare event that an online instructor cannot answer your question, telephone support with one of our Staff Instructors will be provided.
On-the-Go Learning Tools
Check out the on-the-go learning tools below; they are part of your purchase:
MLS eBook Training Series
Click on any book title to view an excerpt
Click to load video player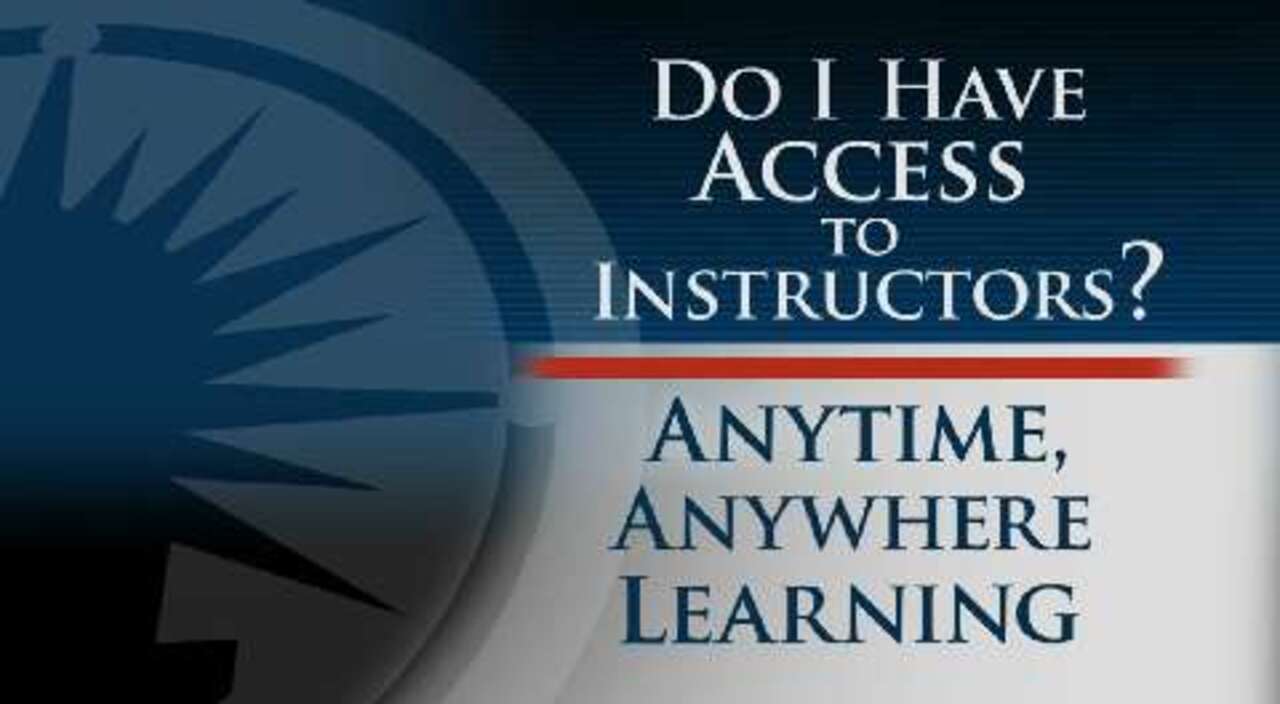 MLS Audio
In-Depth Audio Lectures
Learn at your pace without a classroom atmosphere
Improve reading comprehension and engage in multi-modal learning
Improve time management by learning while engaging in other activities
MLS Mobile
Courses available on any device through MLS app and mobile web browser
Unlimited access to course content wherever you are; use when connected to the Internet or download content to take offline
Full-Color Digital Study Guides
Assistance from Licensed USCG Instructors
MLS Quiz Me feature
The USCG Master License allows the holder to operate inspected vessels as well as uninspected vessels. Any vessel that is certified (authorized) by the USCG to carry more than 6 paying passengers plus crew must have a Boat Captain who holds a 25/50/100 Ton Master license. Ferry boats, harbor tours boats, and whale watch boats are examples of inspected vessels.
There are 3 different Master Licenses a mariner may qualify for, such as the Master Inland or Master Near Coastal. Both the amount of sea service time and the size vessels you have been on will influence the license you are eligible for. Master licenses are tonnage rated at 25 GT (gross tons), 50 GT, or 100 GT.
The tonnage you are awarded is determined by the size vessels you've gained experience on in the last 3 years - it's called "recency experience." You are not required to advance through the different licenses one at a time. If you meet the USCG requirements for the Master 100GT Near Coastal, you'll get that license as your first license.
Click to load video player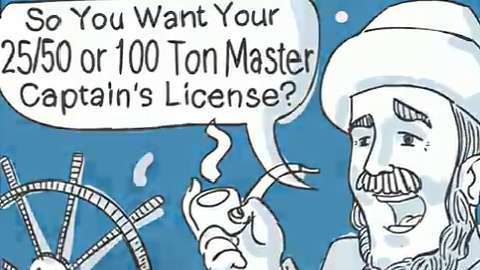 The 3 types of up to 100GT Master licenses are listed below, along with the requirements:
Master Inland: 360 days underway experience since age 16; 90 of those 360 days in the last 3 years. 
Master Inland/OUPV Near Coastal: 360 days underway experience since age 16; 90 of those 360 days in the last 3 years; 90 of those 360 days outside the boundary lines. 
Master Near Coastal: 720 days underway experience since age 16; 90 of those 720 days in the last 3 years; 360 of those 720 days outside the boundary lines. 
Additional Requirements Include:
Obtain a Transportation Workers Identification Credential (TWIC Card)
Minimum age: 19 years old (U.S. Citizenship Required)
Pass a Physical Examination
Pass a DOT Drug Test unless enrolled in a USCG-approved random drug program for the last 185 days, and with no failure or refusal to participate in a chemical test for dangerous drugs.
CPR/First Aid training
Completion of Mariners Learning System™ USCG-approved OUPV/Six-Pack Upgrade to Master online course and exam
Complete a USCG Original License Application Package
Click to load video player
No testing at the USCG Regional Exam Centers is necessary. All testing is done ONLINE through the MLS account.
Upon successful completion of the Mariners Learning System™ online OUPV/Six-Pack Upgrade to 25/50/100 Ton Master course, the student studies the materials and takes our proctored exam online. Once the student passes our multiple-choice exam, they will receive a Mariners Learning System™ certificate recognized by the United States Coast Guard. Simply submit, within one year, the original certificate along with the application package and applicable fees to the USCG Regional Exam Center. Upon their approval of your package, they will mail the license.
ONLINE TESTING
Mariners Learning System™ offers Coast Guard-approved remote testing for those looking to become a licensed Captain. Our eLearning system makes it easy to take your Captain's Licensing course and final proctored exam online when it's convenient for you. Any Day. Any Time. Any Place. 
HOW MLS TESTS ARE GRADED
Once the student completes the course quizzes and online module exam(s), they can test on-demand online for their final proctored exam with Mariners Learning System™. No testing at the Coast Guard Regional Exam Centers. The grading standards are:
Exam Modules
Number of Questions
Minimum Score Required
Number of Questions a Student Can Get Wrong
and Still Pass
Master 25/50/100 Ton
70
70%
21 wrong

The student must pass all modules to receive a certification of completion. If a student fails one or more modules, they will be able to retest after the previous exams are reviewed, and reattempts unlocked. This re-examination must occur within 3 months of the original testing attempt or prior to the course expiration date, whichever date comes first. Those who do not pass an exam module after three attempts must retake the entire online course and retest all modules online prior to the year course expiration date and wait a period of 45 days to retest.
Students must have a high-speed Internet connection and an up-to-date desktop or laptop with a webcam and microphone. Also, students must have the ability to download software through the MLS account. This is required to access the exam.
When testing online for the proctored exam, students will be required to display a legible photocopy of their Coast Guard-recognized photo identification to the computer screen. The student will be required to complete the course evaluation form prior to testing. These copies will be retained for our records per USCG requirements.
Click to load video player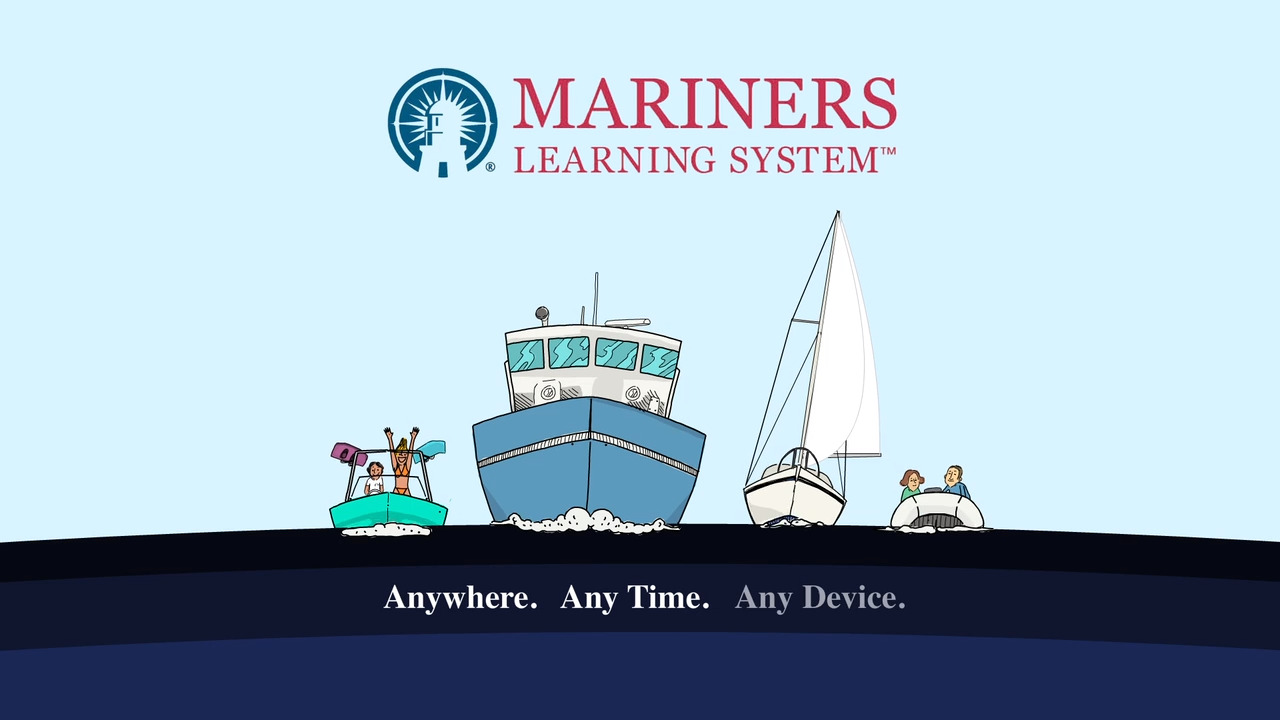 The list of acceptable forms of photo identification includes:
U.S. driver's license
U.S. Passport
Foreign Passport
Law enforcement credential, with photograph of the applicant, issued by Federal, State, or local government
U.S. Military identification card
Official identification card issued by a State, or local government
Official identification card issued by the Federal Government
Merchant Marine Document issued after February 3, 2003
IMPORTANT NOTE: It is the student's responsibility to provide a clear and legible copy of identification. If an ID is not provided and/or MLS is unable to read the copy, it will result in a failure. No exceptions per Coast Guard policy. No other forms of identification will be accepted.
Download Product Page PDF