FCC Restricted GMDSS – Radio Operator's License (RG) – Elements 1 and 7R Online Exams
The Restricted GMDSS - Radio Operator's License (RG) product includes access to one attempt for each of the following FCC Elements: (1) FCC Element 1 and (1) FCC Element 7R.
These online exams have a maximum testing time of two hours for each FCC Element.
Overview
The Restricted GMDSS - Radio Operator's License (RG) qualifies the holder to operate and make basic equipment adjustments to Global Maritime Distress and Safety System (GMDSS) radio installations, but only on voyages that remain within twenty (20) nautical miles of shore. It also confers the operating authority of the Marine Radio Operator Permit (MP).
Once you pass the required Element exam(s) for the FCC license that you are pursuing, Mariners Learning System will electronically file your license application with the FCC on your behalf. To do so, we require that you provide us via email:
Your MLS certificate of completion(s) for each required FCC Element
Properly filled out and completed FCC 605 Main Form and Schedule E
Click to load video player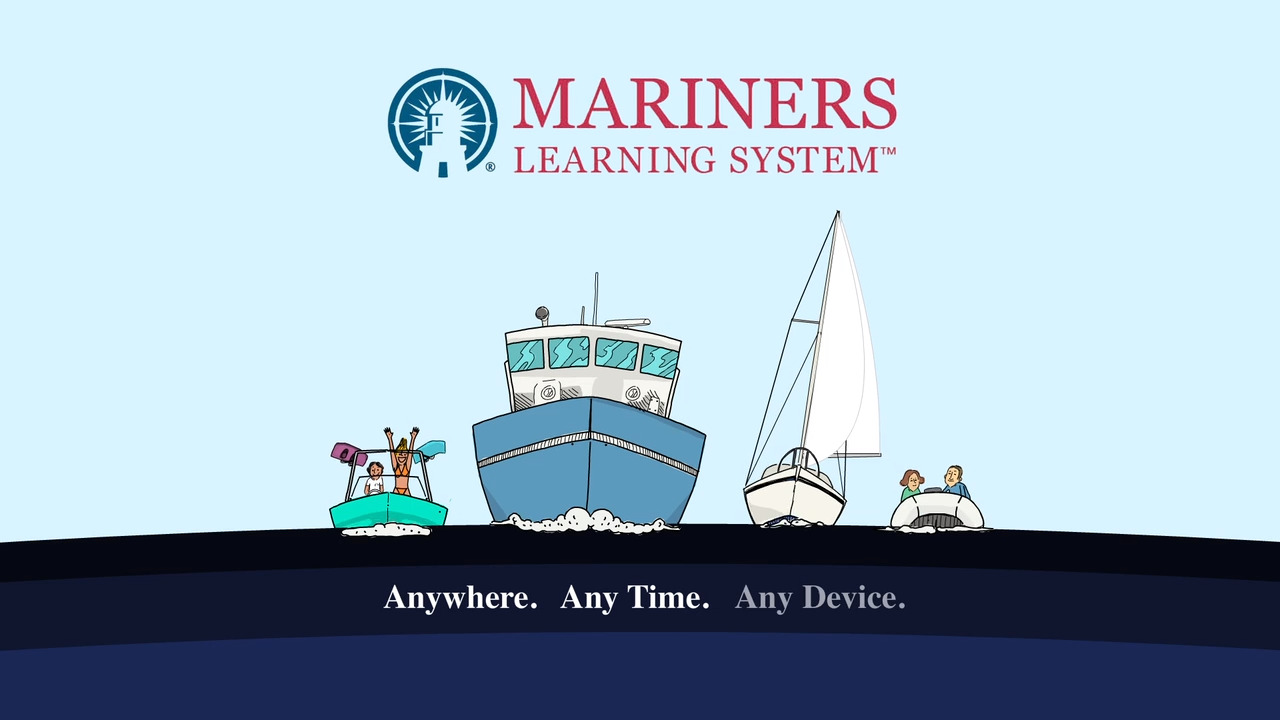 IMPORTANT NOTE: Upon successful approval of the applicant's license with the FCC, applicants will receive an email from the FCC. The applicant will have 10 days to pay the FCC an issuance fee ($35 for most applications) to finalize their license, per the instructions in the FCC's email.
With your purchase, you get access to (1) FCC Element 1 and (1) Element 7R online exam for the FCC Restricted GMDSS - Radio Operator License (RG). If you do not pass any mandatory FCC marine radio licensing exam, you will be required to re-purchase access to retest that FCC Element exam(s).
There are NO online course materials associated with this product.
You can also purchase the Restricted GMDSS Radio Operator's License – RG (Elements 1, 7R) Practice Test Book for an additional fee.
License Requirements
To qualify for the FCC Restricted GMDSS - Radio Operator's License (RG), you must:
Be a legal resident of (or otherwise eligible for employment in) the United States.

Be able to receive and transmit spoken messages in English.

Pass a written exam as described under the Testing tab.
Test Info
To obtain an FCC Restricted GMDSS Radio Operator's License (RG), applicants must pass written Elements as illustrated in the following table:
Written Examination Elements For The RG License
Element 1
Basic radio law and operating practice with which every maritime radio operator should be familiar. To pass, an examinee must correctly answer at least 18 out of 24 questions.
Element 7R
GMDSS Radio Operating Practices. GMDSS Restricted radio operating procedures and practices sufficient to show detailed practical knowledge of the operation of the VHF GMDSS sub-systems and equipment. The exam consists of questions from the following categories: general information, VHF digital selective calling, and carriage requirement. To pass, an examinee must correctly answer at least 38 out of 50 questions.
Note: You receive credit for each FCC Element Exam passed. For example - If you pass Element 1, but not Element 7R, you need to retest only for Element 7R.
Online Testing System Requirements
You must take the exam on a desktop computer or laptop (not a tablet ex: Chromebook)

You must have a working built-in or external webcam and microphone

Your Internet speed must be at least 2 Mbps download and 2 Mbps upload. Determine your Internet speed by running a test at: http://www.speedtest.net
Room/Space preparations:
The lighting in the room must be bright enough so that your face and eyes can be seen throughout the duration of the exam

Your desk/workspace must be completely cleared of all papers, books, and reference materials. In addition, please clear the entire room (including walls and bookshelves) of any materials that could be considered reference materials. Any suspect items seen during the initial room scan by your proctor will be flagged.
Ensure you adhere to the rules during your exam
You MUST provide your valid government issued photo ID when requested

You MUST remain directly in front of your webcam for the duration of the exam

You MUST NOT have anyone else in the room with you for the duration of your exam

You MUST NOT interact or communicate with anyone by any means while testing

You MUST NOT use any other electronic devices (phone, ipod, headphones, MP3 player, another computer, etc.) while taking the exam

Reference materials (papers, pens, books, study guides, e-mails, website, etc.) MUST NOT be used while testing

You MUST NOT use any mobile device or have any mobile device within your eyesight during the exam

You MUST NOT access other websites or applications on the computer while testing

You MUST NOT intentionally disable internet connection while testing
*Violation of any these rules will be flagged during your exam by the web proctor, and your exam WILL be marked as a FAIL, you will not be eligible for a refund and WILL be banned from re-taking the exam with Mariners Learning System.
Download Product Page PDF